Boat trips on Ibiza
Unmissable boat trips on Ibiza
Picture this; a day out on your ibiza boat trip sailing the crystalline blue waters of the Mediterranean. In the company of your closest mates, and maybe a few new faces that you just met the night before on the Amnesia terrace. The drinks are flowing and feel-good Balearic house music is soundtracking the idyllic setting perfectly. That right there, is how you live your best life on Ibiza. 
Luckily, there are plenty of boat trips to choose from. Whether you want to top up your tan on a luxury catamaran enjoying peaceful ocean views. Or, go all out and party on a five-star yacht popping bottles of champagne as the sun goes down. There's something for everyone. 
To help get you started in your search, we're sharing our top unmissable boat trips on Ibiza. These private excursions will take your holiday from the best yet, to the best ever.
Set sail for Formentera
Just off the south coast of Ibiza lies the blissful island of Formentera. Easily comparable to a paradise island, Formentera's sparkling blue waters, white sandy beaches and relaxed vibe make it a top destination for a day out at sea. It's not unusual to bump into a few celebs whilst you're there. 
Once you reach the shore, your skipper will find the perfect spot and the day ahead is yours for the taking. Having knocked back a couple of the complimentary drinks en route you might be feeling a little adventurous. In which case, grab your snorkel and dive in! Formentera's crystal clear waters are the perfect place to get up close and personal with Ibiza's wild marine life.
Back on board, take some time to recline on the top deck and make the most of your luxurious ride. Catch some rays, blast a few techno bangers through the aux and make hazy summer memories that last a lifetime. 
The full Formentera experience
For the full Formentera experience, head ashore and explore the island on foot. Immerse yourself in the island's boho free-spirit by kicking back on some of the most spectacular beaches you'll have ever seen. Such as the vibrant shores of Playa de Ses Illetes and S'Espalmador or the secluded coves of Cala Soana and Es Caló. Prepare to get lost in paradise!
Later on if you find yourself needing to refuel, then join the rest of Formentera's jet-setters in the island's restaurants and beach bars.
Enjoy the freshest Mediterranean cuisine (Paella here is a must!) and gaze out at the five-star yachts of the rich and famous coming into shore.
Departing from San Antonio
Setting sail for Formentera from San Antonio you can enjoy breathtaking views and a few pit stops along the way. You'll swing by two of Ibiza's top beaches Cala Comte and Cala Bassa before cruising past the magical Es Vedrà rock. Spend the afternoon in the tranquility of Formentera before returning to San Antonio just in time for sunset on the water beside Café Mambo.
Departing from Ibiza Town
Depart from Ibiza Town for Formentera and feel like an elite islander as you leave the bustling port alongside rows of superyachts owned by the island's wealthy residents. Cruise by the towering walls of Dalt Vila before heading down the shoreline of Figueretas and Playa d'en Bossa then it's straight onto sunny Formentera. By departing from Ibiza Town, you and your friends can spend more time in Formentera itself and take in all the wonderful island has to offer.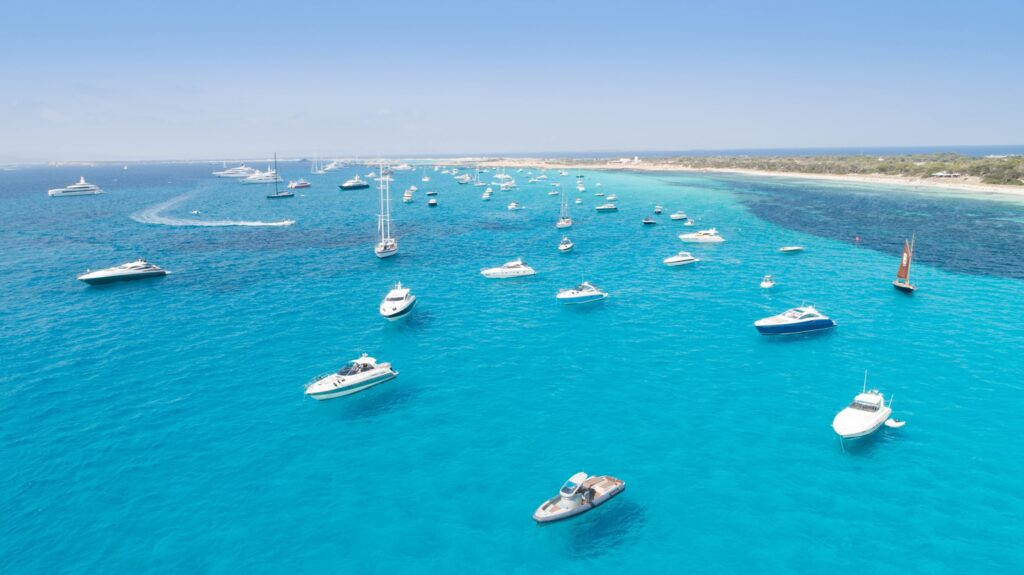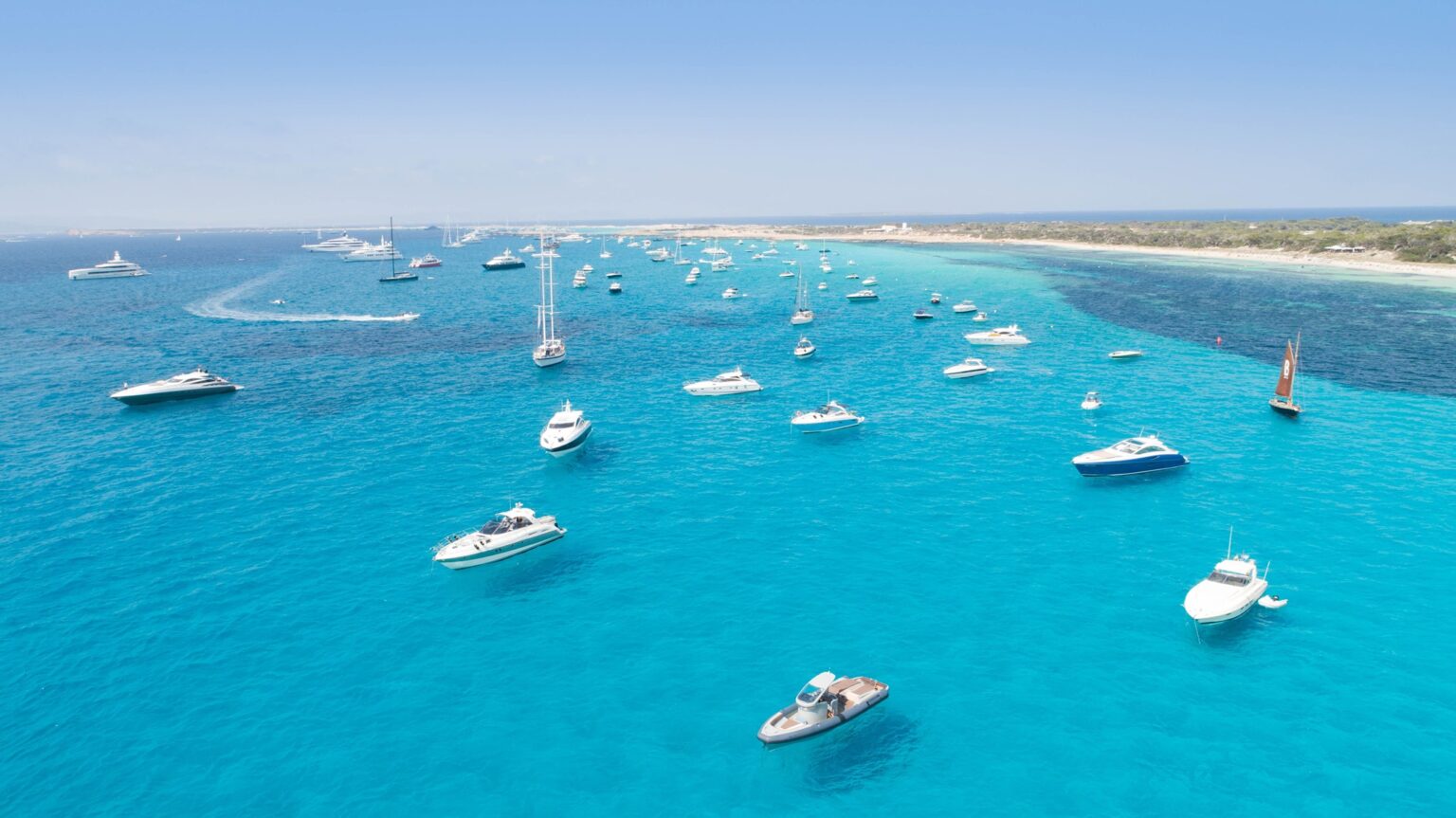 Ibiza boat trips at Sunset 
Bet you thought that Ibiza's magical sunsets couldn't get any better? Well, think again. Head out to sea for an unforgettable experience on an Ibiza sunset boat trip. Choose your means of travel. Whether it's a deluxe catamaran or super slick speed boat and go chase the sun!
Setting off from San Antonio, you'll head to nearby beaches Cala Comte and Cala Bassa. Here you and your group can relax and unwind basking in the Balearic sun. Then once you're sun-kissed head to toe.
Start the party with a few drinks, dancing on the deck, and a quick dip in the glistening Mediterranean sea.
sunset strip
Then, it's time for the magical moment you've been waiting for. The moment that makes this Ibiza boat trip totally unmissable for anyone that holidays on The White Isle. It's time to put the anchor down in the perfect spot next to San Antonio's sunset strip and enjoy the panoramic ocean views as the sun goes down.
All soundtracked to Mambo's superstar guest DJs that night and, of course, the final round of applause and cheers from fellow sunset-chasers sitting on the rocks.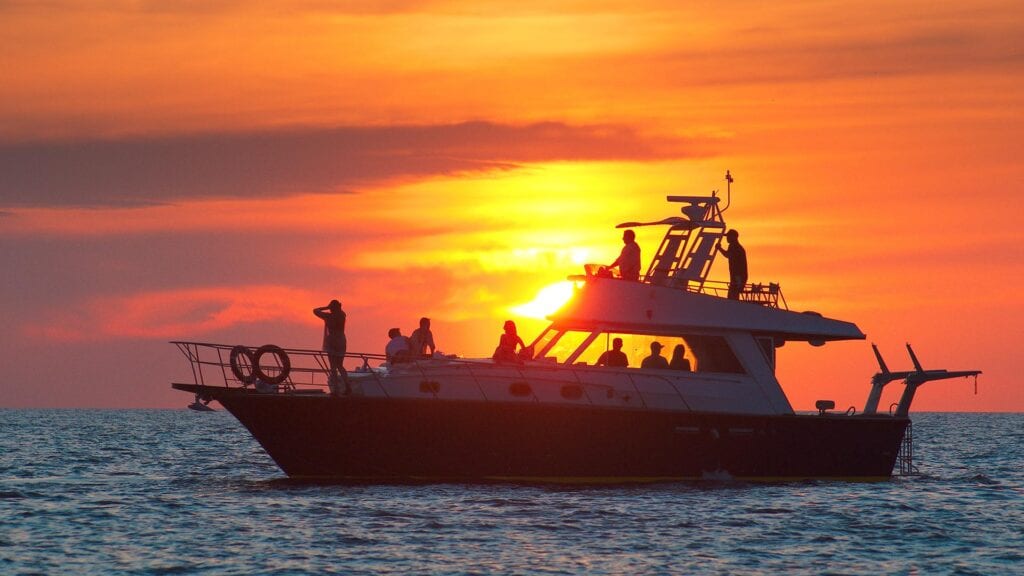 Ibiza Boat trip Adventure to Es Vedrà and Atlantis
Looking for the ultimate daytime trip to complete your perfect Ibiza holiday? Well, this might just be it. The natural wonders of Es Vedrà rock and Atlantis are a MUST for anyone who visits Ibiza. On your private boat excursion, you can do both on the same day – with a few extra bonuses thrown in along the way!
Start by cruising down Ibiza's west coast with stops at local beaches Cala Comte and Cala Bassa. Take a plunge into the azul waters or soak up the sun on deck – the choice is yours. Bring your hottest summer playlist for the occasion and turn up the volume to get the good vibes rolling. 
Es Vedrà
Sailing past the Es Vedrà is an experience that we can't even put into words. Steeped in mythology and ancient legends the sheer scale of mighty rock will leave you in complete awe. A snap in front of the mythical landmark on your own boat is certain to create some serious insta-envy!
Atlantis (Se Predera)
On your Ibiza boat trip, you'll also encounter one of the islands most enchanting hidden coves, Atlantis (Se Predera). Nestled in the cliffside directly opposite Es Vedrà rock, you'll be charmed by the ancient quarry's sandstone carvings, natural pools, and hidden caves.
If you plan on unleashing your inner explorer and climbing the rocks then you might want to watch how many glasses of bubbly you have on the way as it's not for the faint-hearted! 
Finally, after your day out at sea, you'll sail back into San Antonio just offshore of Café Mambo to watch the sun go down on another fantastic day on the magical island of Ibiza. 
If you are starting to feel like a boat trip is exactly what your upcoming holiday to Ibiza, then don't worry. We've got you covered!
You can book all of the Ibiza boat trips above through us. We have a range of boats to suit every budget, style and party size. We also include complimentary drinks, snorkelling equipment, superclub guestlist, and more. 
Check out all of our Ibiza boat trip packages to find out more information and book your date with the Med.